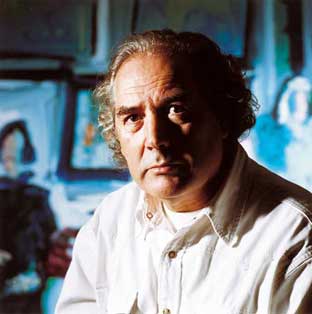 Barreiro was born in Forcarei on the 25th of October, 1940.
1961. His first individual exhibition
1963. He arrived in Paris, where he would live for a year, firstly in a small hotel in the Rue Richer, very near to the Folies Bergere, later he found a garret which he used as a studio during his stay in the Bohemian City of Paris. He made his first contact with the impressionists, Matisse, Picasso, Dufly, rnaking sketches of Parisian corners, painting in Montmartre in Tertre Square with an easel borrowed from a colleague, and taking references, above all from those painters who he would always deeply love: Matisse and Picasso.
1965. On his return to Spain he settled in Vigo, doing decoration work in commercial firns in the City. He had already had contact with Galleries Lafayette and in later years he combined his work as a painter with decoration for Harrods in Buenos Aires (1969-71). He rented a studio in the centre of Vigo at 29 Velázquez Moreno street
1967. Exhibition in Vigo in the Velázquez gallery. Laxeiro gave a lecture on the exhibition.
1968. Madrid. Barreiro exhibits for the first tirne in the Toisón Gallery, with notable reviews in the Madrid dailies.
1969. He travelled to Argentina to exhibit in Buenos Aires Sorne of the few works he took were sold in an exhibition (which was not programmed) in just one day at the French Pasteur motor
1970. In the morning, Barreiro worked on decoration projects for Harrods in Buenos Aires. In the afternoons, he worked on exhibition paintings in his studio. In the summer of 1970, Barreiro did the decorations and a large mural for Harrods. At Christmas, as payment had been good, spent some holidays in Mar del Plata. He met Luis Seoane at the Hotel Hermitage. And during the same period he also met Cafrune, a famous singer, who taught him sorne Sambas, given Barreiro's fondness for the guitar. After this he become a regular with some Argentinian musical groups.
1971. Journey to Chile, Brazil, Uruguay.
1972. Exhibition in the Perla Marino Gallery in Buenos Aires.
On retunllng to Spain he exhibited, in the Jofer Gallery, Pontevedra, pictures painted in America. Laxeiro presented the exhibition II Pontevedra Art Biennial. He exhibited in Vigo.
1973. Lázaro Galler, Madrid. Archaeological Museum, Cultural Centre, Murcia. Gaudí Gallery, Santa Cruz de Tenerife. José Mª Burgos Art Gallery, Valladolid.
1974. Tourism and Information Centre, Pontevedra.
7½ Gallery Barcelona. Presentation of prismatism based on the discomposing of light-colour through a prism, to which the famous Catalonian newspaper critic Santos Torroella dedicated an article. III Pontevedra Art Biennial
1975. Marko Gallery, Madrid. Collective exhibition. Praza da Princesa, Vigo. Collective exhibition.
1976. La Pinoteca Gallery, Madrid. Homage to Galicia: 80 paintings presented by the writer Alvaro Cunqueiro.
Collective exhibition of Galician painters in Caracas (Venezuela), sponsored by the Souto Gallery of Ourense.
1980. Grisalla Gallery, Valladolid.
1982. V Pontevedra International Art Biennial.
1983. La Pinoteca Gallery, Madrid.
1985. Citanía Art Gallery, Santiago de Compostela. Vigo City Council Art Gallery.
1986. Arracada Art Gallery, A Coruña. Murcia City Council Art Gallery. Focarei Town Council "Homage to my Land". Exhibition retrospective of Terra de Montes, the painter's birthplace.
1987. Itinerant exhibition of 25 Galician painters, sponsored by the Xunta de Galicia.
Exhibition in the San Juan Monastery, Burgos. His latest 80 works in the cloister of this magnificent monastery which today houses the Marcelino Santamaria Museum.
1988.Obelisco Gallery, A Coruña.
1989. Exhibition at the Durán Art Gallery, Madrid. Barreiro starts with notable success. From this year on, he will exhibit every two years in this well-known Madrid art gallery, selling all his works on the opening day.
1990. Obelisco Gallery, A Coruña. Macarrón Gallery, Madrid. Collective exhibition of Galician painters.
1991. Art Chicago. International exhibition of art galleries. During this journey, he spent sorne days in New York; taking advantage to make some notes on this great city. He visited art galleries of the latest trends, and had the good luck to attend a great exhibition of the Impressionists at the Museum of Modern Art, something one seldom has the opportunity to see. It was an impressive exhibition of endless threads. Exhibition at the Durán Art Gallery, Madrid. Half century of Galician Art, Lisbon. Exhibition sponsored by the Xunta de Galicia.
1992. Art Miami. International Art Exhibition. For several years, Barreiro and the Durán Gallery would take part together in this exhibition in the US where he had the opportunity to get to know the Michel Karel Gallery in Miami Beach, which now represents his work in Florida. Pilar Parra Gallery, Sanxenxo (Pontevedra).
1993. Exhibition at the Durán Art Gallery, Madrid. Casa de Galicia, Madrid. 20 years of painting. Art Miami.
1994. Casa da Parra, Santiago de Compostela, sponsored by the Xunta de Galicia. Art Miami.
1995. Exbibition at the Durán Art Gallery, Madrid. Goya Art Gallery, Zaragoza. Caixa de Madrid, Pontevedra. Art Miami.
1996. Itinerant exhibition around Portugal: Torres Novas Municipal Museum in the Cultural Centre of the beautiful city of Coimbra. An outstanding Portuguese approach to Galician culture.
1997. Exhibition at the Durán Art Gallery, Madrid.
Caixa de Aforros de Pontevedra.
International Art Fair in the city of Ghent (Belgium), participating with the Kreisler Gallery of Madrid.
1998. 10 years of painting ,Vigo City Council Art Galery.
2000. Durán Exposiciones de Arte. Madrid 20 años de pintura, Hostal Reyes Católicos en Santiago Exposición colectiva, sinta y Montemor, Portugal. "Cita con el dibujo", Galería Alfama, Madrid.
2001. Casa de la Parra, Santiago de Compostela. Galería Rafael, Valladolid.
Feria de Arte 2001, Durán exposiciones de arte, Madrid.
2002. Sammer Gallery, Puerto Banús, Marbella. Galería Sargadelos, Vigo, Pontevedra.